Short biography of St. Clare of Assisi

1182

A certain Francesco Bernardone was born in Assisi...

1194

Birth of Clare Offreduccio di Favarone. Baptism, like Francis, in the church cathedral of San Rufino.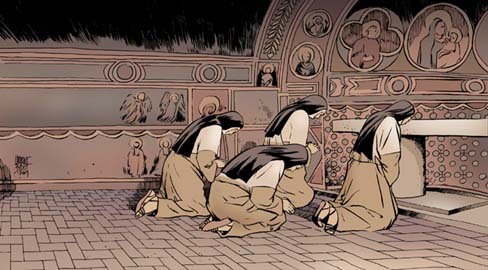 1205

Francis becomes the talk of the town in Assisi. He renounces his father's legacy, becomes a mason and restores churches...

1209

Some brothers join Francis in order to live his way of life. A pilgrimage to Rome. The Pope approves his way of life. Francis' way of life catches Clare's attention and attracts her.

1212

Charmed by Francis' way of life, Clare receives from his own hands the Vestments. Clare settles with a few companions in San Damiano.

1216

The Pope grants the privilege of poverty to San Damiano's monastery.

1225

Beginning of Clare's illness. Francis writes 'The Canticle of the Creatures' in San Damiano.

1226

On October 3rd, Francis dies, surrounded by his brothers.

1227

Confirmation of the spiritual assistance of the Poor Ladies Order (Clares) by the Friars Minor Order.

1253

On August 9th, pontifical approval of the Rule of Saint Clare.

1253

On August 11th, Clare dies, surrounded by her sisters.